Trump just bullied the Wisconsin GOP into continuing his 2020 'audit'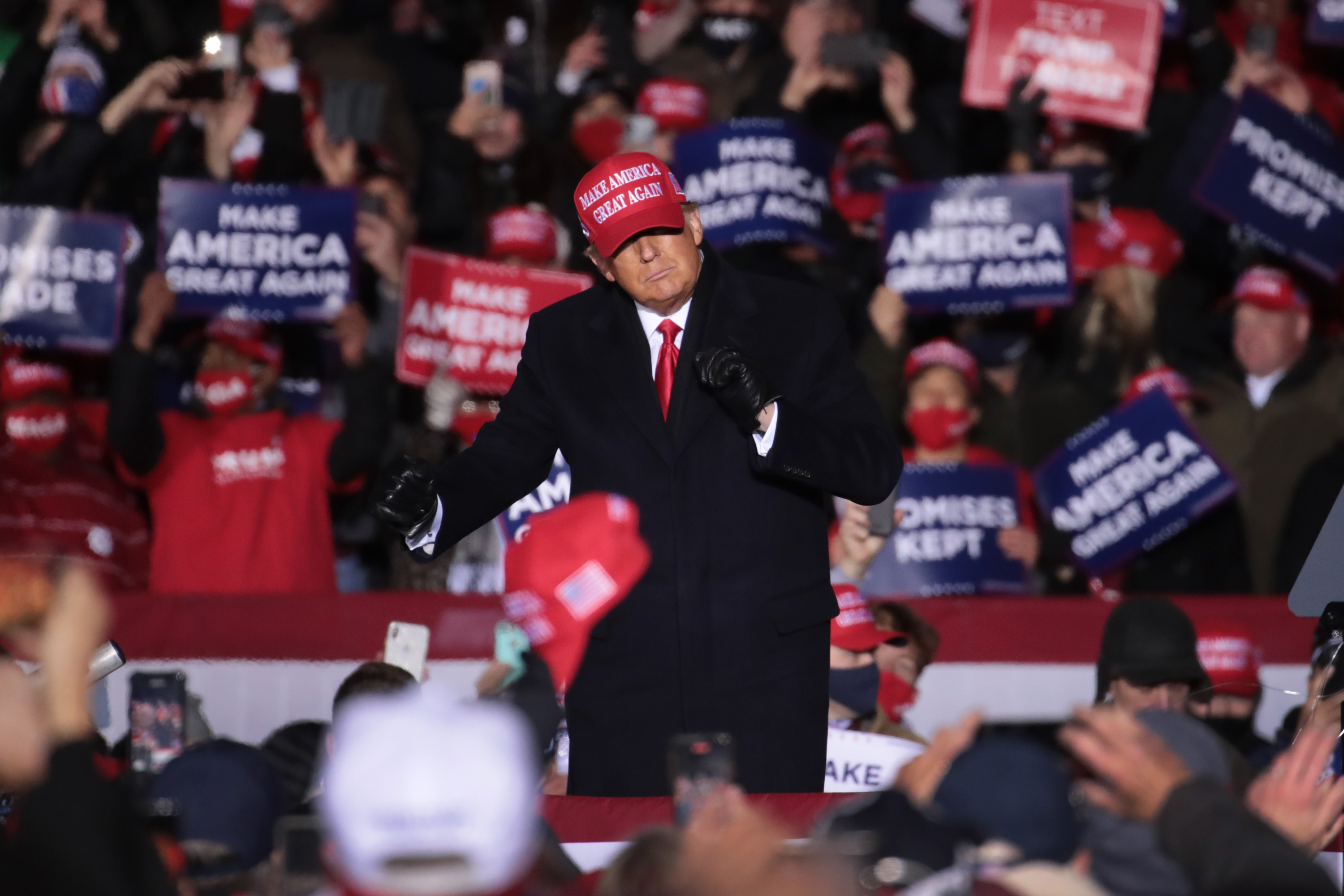 Former President Donald Trump wraps up a campaign rally at Kenosha Regional Airport on November 02, 2020 in Kenosha, Wisconsin. (Photo by Scott Olson/Getty Images)
Wisconsin Republicans are extending the taxpayer-funded contract of the man behind a partisan and widely debunked election "audit" following threats from former President Donald Trump to do otherwise.
Wisconsin GOP Assembly Speaker Robin Vos announced Tuesday afternoon that he would continue to fund the office of former state Supreme Court Justice Michael Gableman, even though his contract had expired. expired and Gableman's job seemed done.
"The Office of Special Counsel will remain open while we secure the legal power of our legislative subpoenas and move through the other lawsuits that have stalled this investigation," Vos announcement Tuesday afternoon.
Vos' announcement came just a day after Trump implicitly threatened to help bolster Vos' main challenger if he did not continue to fund Gableman's work.
"Anyone who calls themselves a Republican in Wisconsin should support the continuation of the investigation in Wisconsin without interference. After all the evidence the report has brought to light, how could anyone want to stop it?" Trump said in a statement Monday, "I understand that some RINOs have primary challengers in Wisconsin. I'm sure their primary challengers would get a huge boost in the polls if those RINOs step in."
Trump's warning was his last successful attempt to bully Vos into pushing the audit, which he started as a way to try to appease the pro-Trump GOP base after Vos refused to try to block the certification of the 2020 elections.
But Gableman's "investigation" turned into a never-ending attempt to discredit the 2020 election. And Vos and other establishment-friendly Wisconsin GOP politicians found out the hard way that Trump and his base will only be appeased by total capitulation.
This led to a collapse within the Wisconsin GOP, with diehard pro-Trumpers demanding that Vos and others do what they want — and Trump threatening to step in every time Vos drags his feet.
Vos made it clear that this dynamic has been repeated, indicating that he was negotiating with Gableman to continue his contract at a lower cost while arguing complaints of pro-Trump conspirator and GOP state Rep. Janel Brandtjen that he was refusing to commit to continuing to fund Gableman's investigation. Wisconsin taxpayers have already had to shell out $680,000 for the partisan audit, and this contract extension means more taxpayer dollars will be wasted.
Gableman failed to prove any wrongdoing in the 2020 election despite months of investigation. But that didn't stop him from pushing Trump's campaign lies.
When Gableman released his election report in early March, he claimed the Legislature "should look very carefully at the option of decertification" of the 2020 election, reinforcing Trump's pipe dream that he could yet reverse the 2020 results. is not a legal option, even Gableman's own lawyer testified end of March that it would be "useless" to try.
Your has already been found guilty of contempt of court by a state judge for refusing to publicly release investigation records, while Gableman faces a June 10 hearing before another judge to determine whether he will also be held in contempt.
But clearly Vos is more afraid of what Trump might do to his political career than state judges.