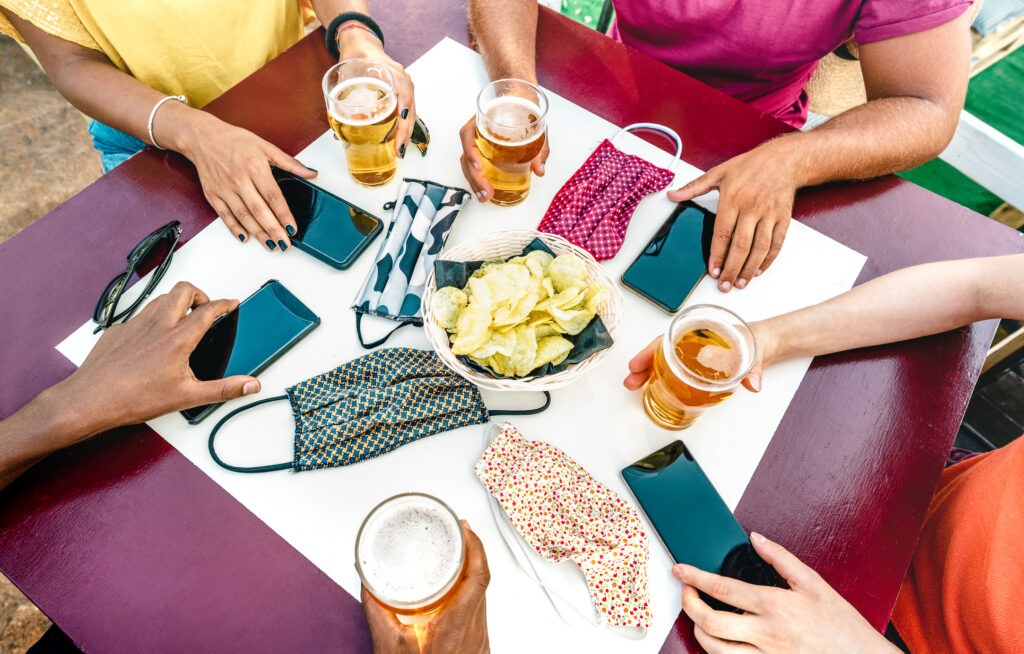 In Restaurant News: UK foodservice market set to grow by nearly a third this year, report finds restaurant test and traceability data has barely been used and Texas hotels are reopening at full capacity.
UK catering sector value to increase by a third: According to its latest report, analyst Lumina Intelligence has forecast the UK catering market to grow 32.1% to £ 11.7 billion this year. It follows a difficult 2020 which saw the sector contract 53.1% to £ 8.9 billion. His forecast is based on the current recovery roadmap, which sees all social contact restrictions removed by June 21.
Hospitality test and trace data from "barely used" restaurants: Data obtained by Sky News shows that test and traceability data collected from pubs and restaurants has been "barely used". Reports reveal that the £ 22bn service did not use much of the data to send alerts or for contact tracing, meaning "thousands of people" were not notified that 'they were at risk of catching the virus.
Yorkshire-based catering group bought out administration: Yorkshire-based restaurant group Fazenda was acquired in a prepack sale by the Southern Wind Group. The new company will keep the group's sites in Leeds, Manchester, Liverpool and Edinburgh open, but outlets in Birmingham and Chester will close, resulting in the loss of 69 jobs.
British steakhouse chain denies bullying allegations: The Tomahawk Steakhouse restaurant group has rejected claims by the GMB union that it forced staff on leave to loan it part of their wages or be fired. The restaurant does not deny asking staff to lend it money, but has refuted accusations that it coerced them into doing so. The restaurant said: "At no point did Tomahawk Steakhouse suggest that staff members would be fired if they did not sign a loan agreement."
Texas restaurants to reopen: The U.S. state of Texas has said indoor dining establishments can return to 100% capacity, and masks will no longer be mandatory as of March 10. Governor Greg Abbott said: "Now is the time to open up Texas 100%."
Zetter hotel and bar group sold to hotel investor: London hotel and bar group Zetter has been sold to hotel investor Orca Holding. The sale includes the Zetter Hotel and The Zetter Townhouses in Clerkenwell and Marylebone. Orca hopes to grow the brand and open more locations in London as well as other cities in the UK and Europe, including Paris, Madrid and Amsterdam.
Launch of the Golden Vines Awards: Fine wine research and content company Liquid Icons, founded by the late Gerard Basset OBE MW MS and his friend Lewis Chester, launched the Golden Vine Awards and a fundraising event to support diversity and inclusion in world wine education. In partnership with the Birley Clubs, the ceremony will be held at the Annabel Club in London on October 7 and will recognize the "star artists of the fine wine industry".
Tips for New York restaurant workers drop due to Covid: A report from One Fair Wage found that 59% of restaurant workers in New York City said their tips had declined by at least 50% since the start of the pandemic. 65% believed this decrease was due to the application of additional security protocols.
London's Kricket restaurant grew during the pandemic: According to a report by The telegraph, London restaurant Kricket revealed that its business has actually grown since the first lockdown began last year. Co-founder Will Bowlby said the company hired more people and was able to retain pre-Covid-19 staff thanks to the success of its meal boxes.
El Pastor to take over former HIX site in Soho: The Mexican restaurant El Pastor will open a new site in the form of HIX Soho oulet in London. The founders say the deal is the result of a long-term goal to open a site in the Soho area.
Launch of Schofield's Bar Provisions: Bartender brothers Joe and Daniel Schofield are set to launch a new delivery and take-out service before their new bar in Manchester opens in late spring. The service will include bottled cocktails, wine, coffee, and cheese and cold meats. Daniel was previously Deputy Bar Manager at Coupette in London, while Joe is the Creative Director of London-based vermouth brand Asterley Bros.
Chick 'n' Sours Launches Fried Chicken Meal Kits: London-based fried chicken specialist Chick 'n' Sours will launch meal kits starting this month, serving signature dishes and cocktails, accompanied by a 24-hour playlist.
Launch of £ 3million herbal restaurant and rooftop bar in Leeds: A new £ 3million herbal rooftop bar and restaurant called The Green Room is set to open in Leeds this summer. The project is the result of a collaboration between young entrepreneurs Will Habergham and Pj Gardner, who have spent the last decade working in the clubs, events, music and festivals sectors.