Texas Attorney General Candidate Helps Newly Registered Citizens Register to Vote in Tyler | Local News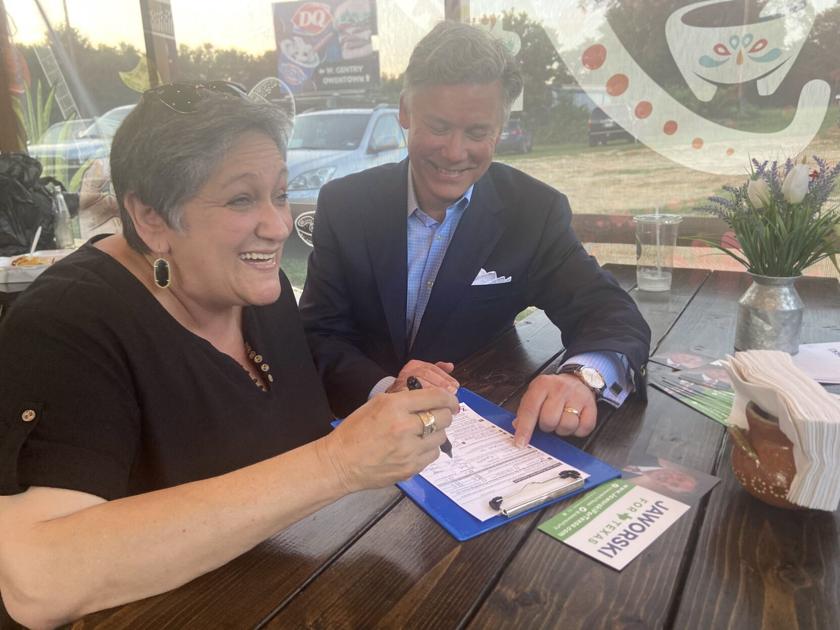 Joe Jaworski, a Democratic candidate for attorney general from Texas, visited Ruby's Mexican restaurant on Friday to help a woman who recently became a U.S. citizen register to vote.
Rosi Sundin has lived in Tyler for 17 years after traveling from her home country, Brazil. Over the years Sundin has lived in the United States, she has always been a permanent resident, but never really felt the need to become a citizen.
"I moved here, got my green card, but I never wanted to be a citizen, never. I just didn't want to do it, "Sundin said.
The past four to five years have motivated her to make the decision that she couldn't wait any longer. She had to become a citizen for one reason: to vote.
"The first 12 years I just didn't care about politics or anything, then (President Donald) Trump came along and saw how bad it is when people don't participate and don't make their voices heard, "she said.
Sundin said she was terrified of Trump being re-elected, so she wanted to participate and do whatever she could to make sure that didn't happen.
"This is why I felt that I really needed to become a citizen in order to be able to participate in the electoral process," said Sundin.
She officially became a citizen of the United States on May 26. Jaworski helped Sundin complete her application and Sundin sent it in to be mailed to the Democratic Club of Smith County.
He said the moment called for a celebration and a Brazilian woman becoming a citizen was telling him about the American pledge.
"I am here to ask him for his vote in the Democratic primary, and again in the general election," he said. "You said, 'There is a better life to be had in America.' And that America said, 'Yes, we welcome you,' "Jaworski said.
Jaworski said it was an honor to be there.
"I am campaigning for the attorney general of Texas and what we Democrats want to do is go to rural counties, where Democrats would be afraid to walk, to say that we are not afraid to walk. We are here with you, we encourage voters to register and vote, "he said. "Tyler is a really important part of the state. The attorney general should have a relationship with her, that's why I'm here, "Jaworski said.
He said the most important things he is proposing include the integrity and ethics to be restored to the Texas attorney general's office.
Jaworski is a third generation Texas attorney and former mayor of Galveston.