Rohnert Park's first homeless housing site opens Monday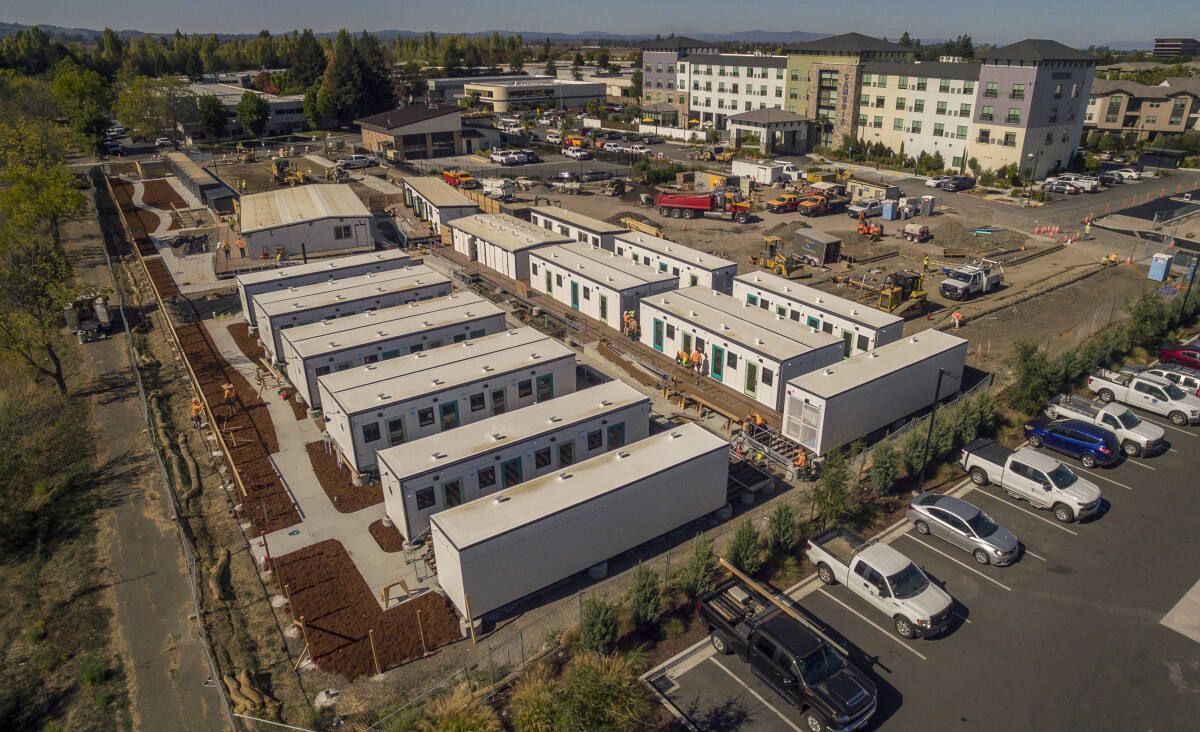 Rohnert Park will welcome the first residents of its new $15 million homeless housing site on Monday.
The 60-unit project on Labath Avenue is Rohnert Park's first effort to house some of its approximately 250 homeless residents.
Officials in Sonoma County's third-largest city hope the new space will give them an additional tool to tackle rising homelessness, particularly a large encampment on Roberts Lake Road that has sparked growing concern among residents. residents and businesses.
"Labath Landing gives us a very important asset to address homelessness in Rohnert Park," Deputy City Manager Don Schwartz said.
The project provides people experiencing homelessness with temporary housing and complementary services while they work with a case manager to find sustainable housing. The city plans to serve about 100 people there a year, Schwartz said.
The facility, less than a mile south of Graton Resort and Casino, was funded through the state's Homekey project. The $3.6 billion program launched in 2020 gives local jurisdictions and tribal governments money to reallocate motels to housing and build new shelters.
On Wednesday, about 50 construction workers rushed to finish work on the city-owned one-acre lot, paving the parking lot and access road, nailing down patios and installing landscaping.
Volunteers were to be on site to install the furniture and decorate the rooms in the coming days.
Rohnert Park officials will celebrate the project's completion on Sunday with tours of the facility and a ceremony before transporting new residents to the site on Monday.
The city expects the units to be 90% occupied when it opens, said Rohnert Park Housing Administrator Jenna Garcia.
Authorities made offers to about 50 people camping in the suburban parking lot on Roberts Lake Road and an encampment at Hinebaugh Creek to move into Labath Landing, Garcia said.
"People are really looking forward to moving in," she said.
Officials will reorganize the remaining residents of the suburban lot into a smaller, managed camp on the east side of the lot after moving people to the new units.
Labath Landing is made up of a dozen prefabricated modular homes.
People will be accommodated in small private bedrooms, each fitted with a raised twin bed with storage space underneath and a desk. Twelve of the rooms are ADA compliant and are slightly larger and can accommodate up to two people, such as a couple.
Residents will share common bathrooms and there is a community hall with a dining room, conference room and computer lab. The campus has laundry facilities, additional storage, a community garden, and a pet relief area.
Labath Landing will be operated by HomeFirst, a non-profit organization based in Milpitas, which will have staff on site to provide case management, mental health counseling and other services. Cooked meals will be given to residents.
The majority of units are reserved for people with high needs such as those considered chronically homeless, elderly residents and those with disabilities or health conditions, Garcia said.
Chronic homelessness, where a person has been continuously homeless for a year or more or has experienced homelessness multiple times in the past three years, has increased in Sonoma County over the past two years despite an increase in government spending, according to a February point-in-time count.
In approving the project last year, city officials said Rohnert Park needed more housing for the homeless to effectively enforce camping and overnight parking rules.
City Council last October voted to seek funding for the project, despite objections from the operators of the Graton Casino and two nearby hotels. The state approved the city's full $14.6 million funding request in December.
Crews broke ground on the project in June and worked around the clock to complete construction within a tight state deadline to open within 10 months of the funding being awarded, Garcia said.
Rohnert Park received a state grant to help pay for operations and qualified for an early occupancy bonus of $600,000 which will be applied towards operating costs. The city will also receive money from a funding framework put in place by Sonoma County to provide operating funds to Homekey sites for seven years.
Garcia said the site will provide a safe environment for people to stabilize and the private setting will help better meet the needs of residents compared to communal shelter which can be a deterrent to people seeking services.
"Labath Landing demonstrates the city's commitment to addressing homelessness," Mayor Jackie Elward said in a statement. "It will solve the crisis on our streets by providing a place where people can gain stability as they transition to permanent housing and help people get out of homelessness for good."
You can reach editor Paulina Pineda at 707-521-5268 or [email protected] On Twitter @paulinapineda22.