Officials celebrate nursing home grant | Local News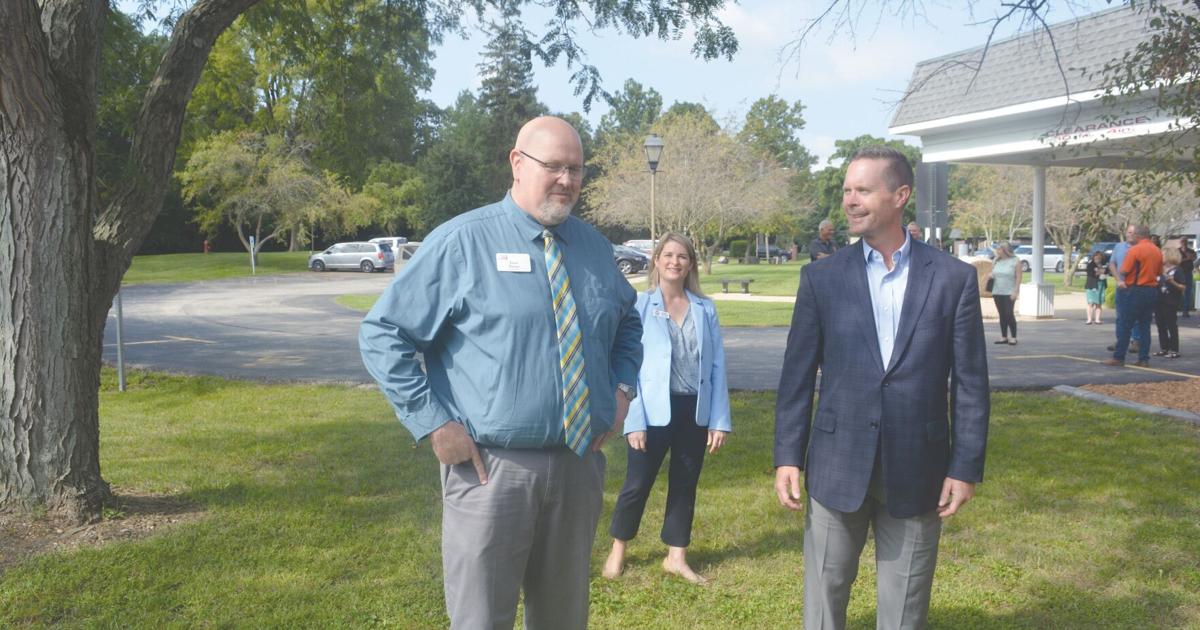 MONTICELLO — After Scott Porter submitted a grant proposal to U.S. Representative Rodney Davis' office to help pay for a backup generator, he glanced at the list of projects also under consideration.
"When I first saw them, I thought, 'There's no way to get this,'" the Piatt County nursing home administrator told Monticello.
But Tyler Cravens, Davis' assistant and Monticello native, assured Porter not to be discouraged.
"He told me we had as good a shot as anyone," he said.
A few weeks later, Davis announced that federal funding of $215,000 through a Community Project Funding Grant would be secured to help pay for the generator.
"It really inspired me to get out there and find other possible things for the nursing home," Porter said last Wednesday as Davis toured the facility.
It was one of Davis' four saves that day. He also visited the University of Illinois' Williard Airport in Savoy, where $1 million has been earmarked for improving security checkpoints; Millikin University in Decatur, which received $2 million to improve facilities at the School of Nursing; and Downtown Gillespie, recipient of $3 million for the Gillespie Downtown Streetscape Project.
"I'm really proud that the county council came together and considered this nursing home project their number one priority," Davis said.
He also thanked Cravens for working hard to get the grant.
"As I am for Christian County, Taylor is a home run," Davis said. "He always works hard to do anything that benefits Piatt County."
Without the upgrade, a power outage lasting more than several hours would force the nursing home to evacuate residents to another site.
"Immense" impact
"The impact this will have on day-to-day operations is likely minimal," Porter said. "But what it will bring in terms of safety in terms of natural disasters and man-made disasters is immense."
During power outages, the power generator will operate the boilers, freezers, refrigerators for food in the kitchen, lights in the hall, and approximately one outlet per room.
Employees have to use extension cords and there are not enough outlets for oxygen concentrators.
"It's a huge ordeal when the power is out," he said. "It is distressing to see a storm warning of any kind, as the consequences of trying to move our residents are extremely dangerous."
"At a time when we are seeing brownouts in part of our country, some people in certain leadership positions in Illinois are making poor decisions about energy production and use," Davis said. . "What this will lead to is great access to affordable energy consumption. What I don't want to see is facilities like this giving great care thanks to people like Mr. Porter, I don't want to see them lose power. I want to see them continue to be able to serve area residents.
Piatt County Board Chairman Ray Spencer praised Davis for his efforts to secure the funding.
"This Piatt County retirement home is a great facility and we want it to be around for a long time," Spencer said. "It was entrusted to us by previous generations. Now it is ours and will continue to be there for future generations.
Davis said federal funding was an example of how taxpayers' money should work.
"This emergency generator is going to be a great investment for the community, a great investment for the residents and it was a top priority for the county council," Davis added.
Earlier this summer, the county board approved $200,000 in American Rescue Plan Act (ARPA) funding to upgrade the installation from a single-phase power supply to a three-phase power supply, which is standard. in most commercial or industrial installations and a need for a new generator.
"It's your taxes that you sent to Washington DC," Davis said of the CPF funds. "That's money that was going to be spent in any federal budget, but you let me decide where they're going, versus some unnamed buerocrat in Washington DC based in the Department of Housing and Urban Development. It's a tax cut for you. It's your tax money going to you to make sure this facility stays open no matter what disasters happen."
Porter said installing a generator is about avoiding disasters. In June 2017, a garbage truck hit a power line on Route 10. Power went out at the facility for 3.5 hours. The high that day was nearly 90 degrees and the generators in the nursing home were unable to connect to the air conditioning unit. State law requires an evacuation if the temperature in the facility exceeds 80 degrees for more than one hour.
"The proposal to evacuate 77 people who are unable to move on their own to another location is daunting," he said. "When you compile that with where we've chosen to take on the added responsibility of having a dedicated Alzheimer's unit, it can be disastrous."