Key GOP lawmaker skeptical of Buttigieg's assurances on transportation spending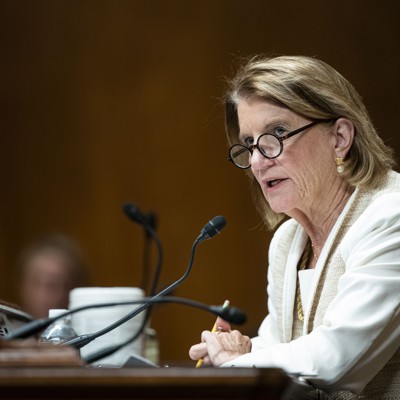 US Transportation Secretary Pete Buttigieg may be trying to reassure states and his Republican critics that he won't try to dictate how state governments use the federal infrastructure dollars they receive under set funding formulas, recently making his case in a speech to state highway officials on Thursday. .
But Sen. Shelley Moore Capito, the top Republican on the Senate Environment and Public Works Committee, said she was unconvinced.
"Not really," Capito, of West Virginia, told reporters Thursday, when asked if Buttigieg's remarks before the committee this week had allayed his fears that the department intends to pursue a liberal agenda. to the detriment of the wishes of States.
Capito sharply criticized advice from Stephanie Pollack, deputy head of the Federal Highway Administration, released in December, saying the agency wanted to prioritize improving roads over building new ones – a key objective for environmentalists – in the implementation of infrastructure investment and jobs. Act.
The agency said it wants as much money as possible to be spent on Biden administration goals, including promoting alternatives to motor vehicles and fighting climate change.
Capito was particularly infuriating because she saw the guidelines as an attempt to squeeze in liberal demands on states' use of infrastructure dollars, even though Democrats agreed not to include them in the bipartisan negotiations that led at the passage of the IIJA.
Capito confronted Buttigieg at a public works committee hearing on Wednesday, showing on signs posted next to her that some of the wording of Pollack's guidelines had been copied "verbatim" from a proposal pushed by Democrats of the House, but blocked by the Republicans, during the negotiations.
"I'm really troubled that a memo from your department contained language from the House bill that was defeated, basically verbatim," Capito told Buttigieg.
Buttigieg, however, denied that the two were the same. He noted that, unlike the Democratic proposal, his department's guidelines do not require states to restore existing roads to good condition before they can use infrastructure dollars to expand them or build new highways.
The transportation secretary stressed during the hearing that he intends to respect how states want to spend at least the dollars distributed to them by formula. Under federal law, states have a lot of power to control how these "formula funds" are used.
"It's the states that are making these calls 'about how this money is being spent,'" Buttigieg said. "We recognize that and support that."
But, he said, the administration will consider its priorities in distributing discretionary grants the Department of Transportation awards to state and local applicants.
This did not satisfy Capito. "He has a way of talking about things," she said of Buttigieg's response.
"We're going to have to be vigilant," she said of oversight of formula funding programs.
Buttigieg, however, tried again to reassure states that they will have flexibility when it comes to spoke Thursday at a conference of the American Association of State Highway and Transportation Officials. The group had also pushed back on Pollack's memo, urging him in a letter to recognize the states' differing transportation needs and not take a "one size fits all" approach to money.
"I want you to know that I recognize and appreciate the importance of your flexibility," Buttigieg told state highway administrators. "We will work with you to ensure you have the right level of flexibility, consistent, of course, with the Infrastructure Act and the core priorities that guided its creation and guided our administration."
Buttigieg added: "We know there are many ways to achieve the goals we share."
Still, he made it clear to state officials how he hopes they will use the money.
"I want to reiterate our request not to look at what has been done in the past to guide what needs to be done for the years to come," he said, adding that "time is running out" to fight against climate change.
He pointed out that if states used infrastructure dollars for projects involving public transit, rail, pedestrian safety and maintenance of existing roads, it could help significantly reduce greenhouse gas pollution. greenhouse contributing to global warming.
"Let's face this crisis together," he said.