History of the Cambridge Lover knotted tiara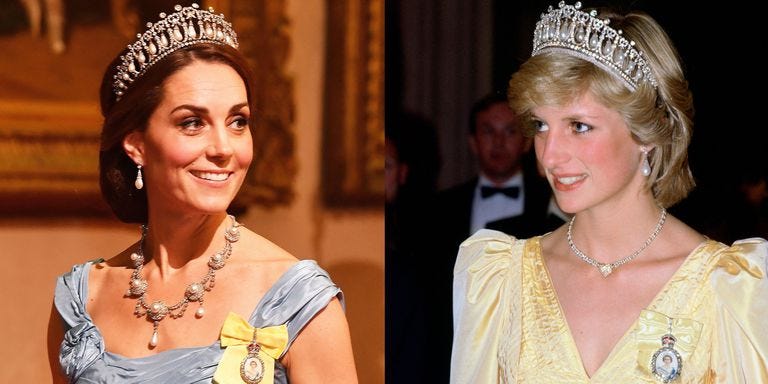 [ad_1]
Once again, Duchess Kate was spotted wearing one of Princess Diana's favorite tiaras at tonight's State Banquet at Buckingham Palace.
The sparkler quickly becomes Kate's tiara of choice. While tonight she paired the mattress topper with the Queen Mother's sapphire and diamond fringe earrings and her new royal order, she's already worn it with an ice blue Alexander McQueen dress and a plunging blush-colored Marchesa dress, among other outfits.
One of Diana's most iconic pieces, the tiara obviously has sentimental value to the Duchess of Cambridge, but it also has an amazing royal history. Sometimes referred to as the Cambridge Lover's Knot, the topper is, in fact, a replica of an earlier tiara.
The jewelry Kate wears was created for Queen Mary in 1914 by the Garrard house from pearls and diamonds already belonging to her family. Mary was inspired by the helmet of her grandmother, Princess Augusta of Hesse, the original Cambridge Lover's Knot Tiara, which is believed to be currently held in an unknown private collection.
According to the court jeweler, when Queen Mary commissioned the piece, she "sacrificed a tiara from her own jewelry collection, the Ladies of England Tiara, to make it."
After Queen Mary's death in 1953, the crown passed to her granddaughter, Queen Elizabeth II. The Queen wore the tiara several times in the 1950s, before moving on to other pieces like the Girls of Great Britain and Ireland tiara, which have since become her favorites.
In 1981, the Queen reportedly loaned the Lover's Knot Tiara to Princess Diana as a wedding gift. Diana opted to wear the family heirloom Spencer Tiara instead on her big day, but the Lover's Knot has become one of her favorite pieces, despite being so heavy it hurt her skin. head.
When Diana and Charles divorced, the crown was returned to Queen Elizabeth II — Diana was allowed to keep her jewelry as part of the settlement, but as the tiara was on loan from the Queen, it was returned and is said to have been placed in a safe at Buckingham Palace.
According to People, after Diana's death in 1997, the tiara has not been seen publicly until 2015, when Duchess Kate wore it with great fanfare to a reception at Buckingham Palace.
She has since worn it at least four more times.
This content is created and maintained by a third party, and imported to this page to help users provide their email addresses. You may be able to find more information about this and other similar content on piano.io
[ad_2]