Democrat Eddie Lucio Jr. to retire after three decades in the Texas Senate | Texas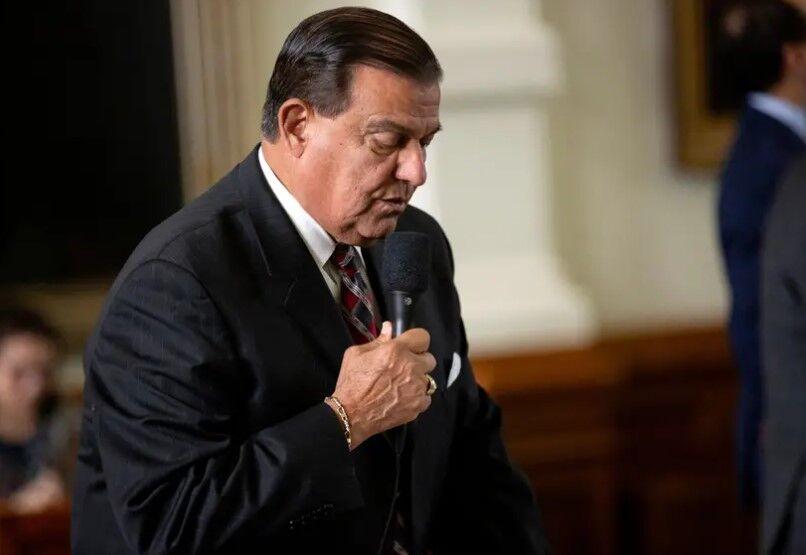 State Senator Eddie Lucio Jr., D-Brownsville, announced Thursday that he is not running for reelection after three decades in the upper house.
He made the announcement at a press conference in Harlingen, saying he was retiring "because a lot of wonderful things are still to come in my life." He said he wanted to spend more time with his family "and do some of the things I wanted to do like my own personal ministry to help those less fortunate in our community."
"I want to keep fighting for what's right in our community for our families," Lucio said.
Lucio's decision comes as a surprise – earlier this year he announced he was running for re-election, and his office confirmed that this remains his plan during the redistribution process this fall.
Lucio, vice-chairman of the Senate education and finance committees, has served in the Senate since 1991, making him the third-oldest member. He has become known as a strong advocate for the needs of the Rio Grande Valley – and for breaking with his party on some major issues, making him the most moderate Democrat in the Senate.
Lucio opposes abortion and voted in favor of Texas' new abortion restriction law that went into effect in September. He supports the choice of school, putting him at odds with fellow Democrats who believe it hurts public schools. And he infuriated the LGBTQ community in 2017 when he voted for the "toilet bill" that would have restricted transgender Texans' access to certain public amenities.
Lucio's independence made him endearing to GOP Lieutenant Governor Dan Patrick, who regularly compliments him and even campaigned for him. Patrick issued an enthusiastic statement on Lucio's retirement, saying he had "lost a great friend and ally in the Texas Senate".
Lucio said Thursday he was urging "those in public service today to be bipartisan, to work together as brothers and sisters in Christ." He also highlighted his views on abortion, saying he "never made a secret of my pro-life beliefs."
As for the lieutenant governor, Lucio praised Patrick while discussing his 2013 legislation to expand free breakfasts for schoolchildren in Texas. Lucio said the proposal "would not have the force of law today if it had not been for" Patrick, who at the time chaired the Senate Committee on Education.
"[Lucio] has always had the courage to put the interests of his district above those of his party and above national politics, "said Patrick in his statement, adding that Lucio" has helped me become a better senator and lieutenant -governor, and a better person ".
During his three-decade tenure, Lucio also lobbied for infrastructure and higher education in the valley, writing legislation that paved the way for new institutions, including a medical school.
Prior to serving in the Senate, Lucio served two terms in the House. He was previously Cameron County Commissioner and County Treasurer.
As a senator, Lucio faced his first real primary opposition for some time in 2020 and was forced into a second round, which he won by a comfortable margin. Lucio faced the prospect of another competitive primary next year, with State Representative Alex Dominguez D-Brownsville exploring a race for the seat in Senate District 27.
Lucio's main opponent in the second round in 2020, Sara Stapleton Barrera, could run for the newly opened seat. She said in a statement that she "will be deliberating with her family and supporters on what will be done, but make no mistake, we will be heavily involved in one way or another."
The redistribution made the SD-27 less secure for Democrats, moving it from a district President Joe Biden won by 16 percentage points to one he would have won by 6 points.
Lucio's son Eddie Lucio III sits in the House and recently announced he will not be running again. A spokesperson said at the time that he had no plans to run for another post in this election.
Eddie Lucio Jr. nonetheless spoke openly about his hopes for his son's political future and devoted part of his speech Thursday to praising him.
"I wish I could hand it over to him, but he has some important things to do," said Eddie Lucio Jr.